Mehal Mahipal
Podcast
Dive into knowledge about Healing Foods, Shamanic Astrology, Psychic Development and Energy Medicine.
The Secrets of a Astroshamanic Healer Podcast is live now:

Get a quick overview of each episode:
1. Episode - Why you should eat banana pancakes when the Moon is in Gemini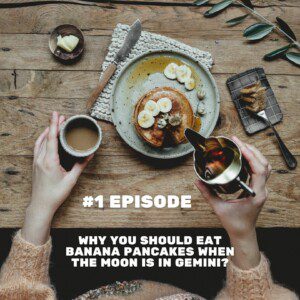 #astrologytips #healingfoods #astrodiet #energymedicine #mooncalendar #mehalmahipal
In this Astrology & Healing foods podcast, I will share the health benefits of aligning your diet with the cosmic cycles.
By doing so, you will not only strengthen and support your body but also will assist its process in healing much quicker. My name is Mehal Mahipal; I am an astrologer, astroshamanic practitioner ( the only 3rd-degree practitioner in the whole of the UK), nutritional adviser, and author of the book "Unlocking Psychic Potential."
Over many years I have studied healing foods and their properties and not combined this knowledge with the use of cosmic cycles. This way, you can bring more harmony to your system and prolong your lifespan. Elements of Chinese traditional dietary therapy, astrology, and the western model of nutritional advice will surprise you. At the end of this podcast, I will also provide you with the most healthy, nourishing, and yummy recipe.
You can also look at my blog post for this quick and delicious recipe here…
2. Episode - How to connect with your Spirit Guide
Learn how to connect with your Spirit Guide and receive healing, support, guidance, and inspiration. Spirit Guide meditation made easy. In this podcast, you will discover how you can connect with a spirit guide with ease and confidence. Connect with your Spirit guide, become aware of its presence, and learn how to enter a different state of consciousness.
Many people are unsure if Spirit Guides exist or if we are making all our experiences up. Easy guided meditation – you will be surprised how fast it will work. www.mehalmahipal.com Mehal Mahipal is a meditation teacher, an astrologer, and a shamanic practitioner.
She works with clients worldwide and teaches psychic development, astrology, and shamanic practices. Mehal is also the author of "Unlocking Psychic Potential."
#alternativemedicine #alternativetomedicine #forestbathing #alternativemedicinenearme #whatsalternativemedicine #essential oils #doterrawellnessadvocate
Have you ever wondered what forms of alternative medicine are there? Are you looking for a cost-effective alternative medicine that is easily accessible? There are various ways in which alternative medicine can assist you in restoring your overall well-being and bringing harmony to your body, mind, and spirit. My name is Mehal Mahipal, and I am a shamanic practitioner, a form of energy medicine. I truly believe that nature holds power to heal us. In today's Podcast Episode, I will be speaking about Forest Bathing and how you can start doing it yourself. Furthermore, I will also introduce you to a form of Forest Bathing that you can practice at your own home without going anywhere. Don't you believe me? Well, stay tuned and find out for yourself.
4. Episode - Shamanic Astrology - A way of life
#shamanicastrology #shamanichealer #astrologyandshamanism #energymedicine #astrologer #astroshamanism #mehalmahipal #innerastrology #outerastrology
Shamanic Astrology is a powerful way to integrate the wisdom of astrology into your everyday life.
This way, Astrology becomes more tangible through direct experience of the cosmic forces. In this Podcast Episode, I will share my insights into shamanic astrology and its practical use. I will speak about the Moon calendar, the Season Calendar, and Healing Foods.
Aspects of Inner and Outer Astrology, Astrology of the Earth, and the practical use of Astrology can have many facets. I am the "only" 3rd-degree Astroshamanic Practitioner in the UK. It took me many years of study, learning, and experimenting to reach this experience level.
Today I am offering this wisdom to you. Shamanic Astrology is my way of life. 
I offer: – Astrology Tarot Card Readings – Astrology Horoscope Readings – Astroshamanic Healing Sessions – Shamanic Journeys.
5. Episode - When relationships fail
We all search for the perfect partner or relationship full of love, romance, respect, loyalty, and passion. Deep down inside, we know – that we need the other, and often we are willing to give everything to be with someone. A few months or years later, we realize that what started as our life's love turned into our life's challenge. We struggle to find common ground; some of us are stuck in patterns or roles we have taken on over time. Unable to feel ourselves and forget the dreams we once had.

We feel betrayed, disappointed, and frustrated – is this the love we longed for?

It doesn't need to be that way – I believe that true, long-lasting, deep love is possible. But only if we understand our own needs, desires and expectations. Once we know what does make us happy – we can radiate this into the world to attract what we want.

Astrology Love Readings can be a powerful tool along this way – to find out what we are energetically made of. It can help us understand why we attract certain partners or show us what we need to feel safe.

If we are in a relationship, Astrology Love Compatibility Readings can assist us in understanding our partner's point of view too.

This week's podcast is about our search for love and union and astrology as a path to get where we are supposed to be.


#loveastrology #lovecompatibility #shamanicastology #foreverlove #lovehoroscope #whenrelationshipsfail #mehalmahipal
6. Episode - The new world is emerging
In this week's podcast episode, I speak about the current karmic astrology.  We all feel the changes happening in the world, and some of us will also feel those karmic energies playing out in certain areas of our lives.
7. Episode - Why anxiety is a sign of psychic abilities


Do you suffer from Anxiety? Do you often experience sensor overload in certain situations or with people? 
For some people, anxiety is very unpleasant and can dramatically decrease their quality of life. However, through my vast experience in Psychic Development, I realized that anxiety could signify true psychic potential. In this Podcast, I will discuss how you can find out if you are psychically gifted. 
8. Episode - How to protect yourself from negative energy
Are you struggling with your energy levels? Do you continuously feel drained, tired, and exhausted? This could be because you are absorbing far too much negative energy from people around you or your environment. In this podcast episode, I will speak about negative energy, how it can affect your mental, emotional and physical health, and what you can do about it. 
9. Episode - Which star signs have inborn psychic abilities?
Have you ever wondered if your star sign has inborn natural psychic abilities? Did you always want to know how you can determine how psychic you are? Shamanic Astrology can help us answer these questions and learn more about specific star signs and their natural inborn psychic abilities. Join me on this week's podcast and see if your star sign is one of them.
10. Episode - New Moon in Virgo
The new moon brings significant energetic changes to our lives, depending on which star sign she moves through. A new moon appears when the sun and moon align in the same star sign. This is a full time to learn how to reset your inner clock and align it with the cosmic cycles. In this week's episode, I will share insights about the new moon in Virgo and what this means for your personal life. 
11. Episode - Mercury goes Retrograde In Virgo & Libra
It's this time of the year again, when mercury retrograde from the 9th of September to the 2nd of October. This time it's in Virgo and Libra, whichretrogrades will create some disturbances. At the same time, it will also offer great opportunities. Check out this week's podcast episode and find out yourself