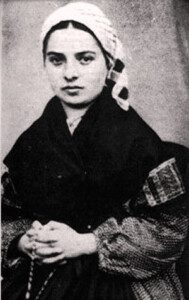 Bernadette Soubirous better known as the Saint Bernadette of Lourdes had a very mystical experience. Even misunderstood by her parents and many others around her, Bernadette believed in her vision and was able to bring healing to millions of people.
On 25 February 1858, an apparition appeared to young Bernadette and told her about the location of a Spring. However, the water was not visible first so Bernadette had to dig into the ground to allow the water to flow in the Grotto of Massabielle in France. Today we know this very special spring, the Grotto, and the healing powers of Lourdes.
Visitors from all over the world
Five Million pilgrims travel to Lourdes every year to find healing from the water of the Grotto. Over time there have even been baths build so people can experience the water in full body. The spring water flows at its maximum of 40l per minute. 
Bernadette's first Vision
Bernadette had her first vision when she was 14 collecting firewood near the Grotto. Over a few weeks, she experienced another 18 visions and described a young white lady telling her to return to the Grotto for a fortnight. She washed her feet in the water as she was told. After two weeks Bernadette said she had a vision in which the apparition told her to drink the water and make a tea of it. Surprisingly on the 25th of February in 1858, the water no longer was muddy but clear and ready to drink. Her mother was tried to forbid her to go to the Grotto but Bernadette insisted to go there.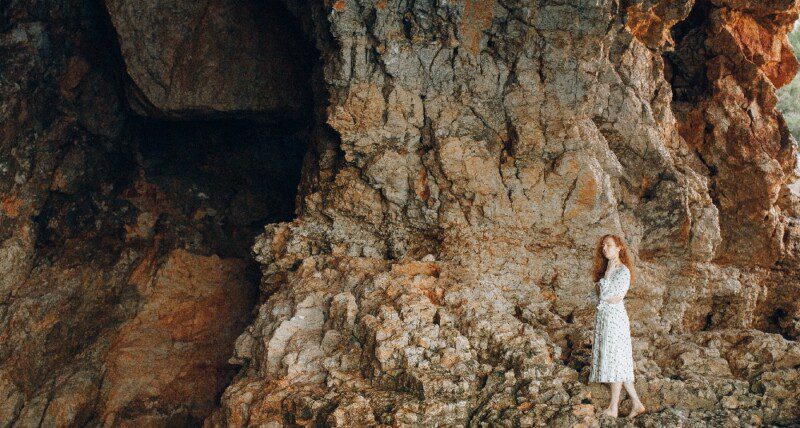 Investigation and approval by the Catholic Church
"After investigation, Catholic Church authorities confirmed the authenticity of the apparitions in 1862. In the 160 years since Soubirous dug up the spring, 70 cures have been verified by the Lourdes Medical Bureau as "inexplicable" – after what the Catholic Church claims are "extremely rigorous scientific and medical examinations" that failed to find any other explanation. The Lourdes Commission that examined Bernadette after the visions ran an intensive analysis on the water and found that, while it had a high mineral content, it contained nothing out of the ordinary that would account for the cures attributed to it. Bernadette said that it was faith and prayer that cured the sick: "One must have faith and pray; the water will have no virtue without faith".
Bernadette requests a chapel to be built
"Soubirous's request to the local priest to build a chapel at the site of her visions eventually gave rise to several chapels and churches at Lourdes. The Sanctuary of Our Lady of Lourdes is now one of the major Catholic pilgrimage sites in the world. One of the churches built at the site, the Basilica of St. Pius X, can accommodate 25,000 people and be dedicated by the future Pope John XXIII when he was the Papal Nuncio to France." (Wikipedia 2021)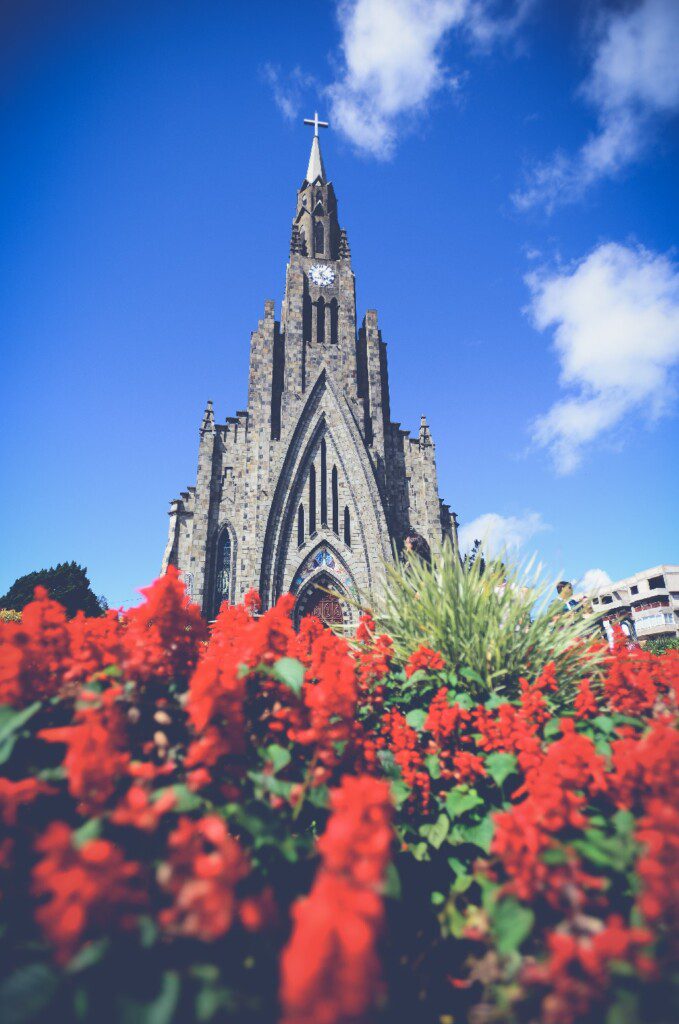 This is truly a remarkable story and so many miracles have been reported by people who visited the holy place of the Grotto in Lourdes. We believe in the powers of the Lourdes Healing water and decided to use it in our Space Clearing and Psychic Protection Sprays. 
Our Vision
Similar to Bernadette, Mehal Mahipal received a vision in which she was told to create a Space Clearing Spray. This would help people all over the world remove negative energies from their environment and only allow the highest positive vibrations to settle in the place. Mehal was also told in her vision that she had to prepare the blend for the sprays during an astroshamanic ritual. This ritual had to take place on a specific astrological important date and had to be done in a certain way. Only under these circumstances the blend would be powerful enough and enhanced with spiritual energy. After experiencing another Vision in which Mehal received the final ingredients for the perfect blend in 2019 she started to create the first batch. Within no one time the first batch was sold out and people could not get enough of the spray.
Today our Astroshamanic Space Clearing Sprays is one of the best Room Sprays that you can get on the market. Carefully chosen ingredients are being put together to make it so powerful.
A combination of sacred Astroshamanic Flower Essences, blended with the Colloidal Gold, Lourdes Healing Water, and essential oils of the highest quality make our product truly unique. You can buy your Space Clearing Spray in our Online Shop.
What our customers say:
"I am buying my 3rd bottle of the space clearing spray as I found it very helpful (also easy to use ) to remove negative energies, create a calm, relaxing environment in my personal life as well as in my work. I am in close contact with loads of people during my work, and spraying it around my aura beforehand really helped me protect my well-being. After work, it helps clear away leftover/picked-up energies from others. Can't recommend it highly enough." 
The power of Negativity to cause health issues
Mehal Mahipal has many years of experience in the Healing field and always aimed to provide a different angle to modern healing methods. Her understanding of any disease or sickness is that it firstly starts in the etheric realms before it finds its way to manifest in the body forms the basis of the vision of her Room Sprays.
"If people only would understand the impact of the energies around them they could start making necessary changes and soon see better well-being. There is so much negativity out there that causes fear, worry, and stress to our system. The daily amount of negative energy coming towards us from modern broadcasting media, people around us, and our toxic environment leads to many mental health issues. Negative energy is not always visible or tangible, it's a vibration that surrounds you and can make you ill.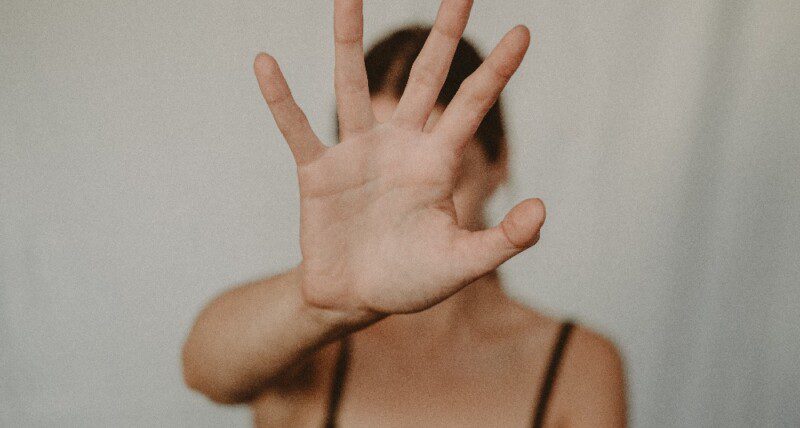 I have always been super sensitive and absorb easily the energy of other people and places. I was always told that I just need to have better boundaries but no one showed me how to build them. Just when I got older I understood how all these tie together. I felt the urge to find a solution for that which is easy to use and practical to apply. The problem is that people are not always aware of what is energetically going on around them. If we were able to remove negative energy soon enough it would not even have a chance to move deeper into our system and cause harm. My Space Clearing Sprays are there to help – you can use them anywhere at any time and you will feel the difference immediately." – Mehal Mahipal
Space Clearing Spray:
Helps to remove negative energy
High-Quality Ingredients
Energizes your living space
Enhances positivity
Uplifting and Fresh Smell
Brings Awareness
Free Shipping in the UK
Photos by Pexels: Dani Mota, Nataliya  Vaitkevich, Daria Shevtsova, Anete Lusina & Public Domain
What's your reaction?
0
Cool
0
Bad
0
Lol
0
Sad